The University of North Carolina is an iconic basketball program that has produced some of the greatest players to ever touch a basketball. One of those players was Michael Jordan, one of the most iconic figures in sports history. Now, to celebrate his legacy and his alma mater, Jordan Brand has released the Air Jordan 5 UNC.
The Design
This shoe features a University Blue nubuck upper with Silver 3M reflective tongues and collegiate patch on the heels. But that's not all – the "Heart" and "Soul" wording behind the tongues atop a Black midsole with Grey speckling and icy translucent outsole completes the design. It's an eye-catching color palette that pays homage to Jordan's college roots while staying stylishly on-trend for today's sneaker market.
Celebrating March Madness
What makes this release even more special is its timing – it coincides perfectly with March Madness, when teams from all across the country compete in a single-elimination tournament to determine who will be crowned NCAA national champions. And, as we all know, Michael Jordan was part of one such championship team during his time at UNC—the 1982 squad that beat Georgetown 63-62 in one of college basketball's most memorable games ever played. As such, this shoe is a perfect tribute to both Michael and UNC's rich basketball history.
For purchase purposes, refer to the details below
Where To Buy The Air Jordan 5 UNC
Price:$225
Release Date: 2023-03-04
Style Code:DV1310-401
Color: University Blue / Black / White
Retailer(s)
Nike, Footlocker,JD Sport, Finishline,DTLR
Buy it now on StockX, CLICK HERE
Resale Value
The average resale value went from $279 to $70 within a 24 hour span, roughly decreasing by $9. I do want to mention that the shoe has a really high Sell Through Rate, about 85% (2.12 times above average). Customers certainly want it. Let's check out the five number summary for further details.
Minimum: 243
Quartile Q1: 262.25
Median: 269.5
Quartile Q3: 274
Maximum: 351
The lowest sale recorded was $243 for a size 7.5 while the highest was $351 for a size 15. 25% of the shoes sold for prices between $243 and $262 ( see next chart for sizes). Half of them sold for prices between $262 and $270 and the top 25% sales were from $274 to $351. There were some outliers, $243, $243, $309, $316, $350, $351 corresponding to sizes 7.5,7.5,12,10.5,15 and 15. With these removed out of the data, the overall average resale value is $267 with a 3% volatility. At $267, you're looking at a +$4 profit margin, a 1.65% mark up, that is very weak. But as you can see , some of the higher outliers might be worth reselling. So let's look at the current earnings by size sold.
31% of the sales led to losses ( sizes 7.5-9), while 46% led to earnings under $15 ( sizes 9.5,10,11-12 and 13). sizes 10.5 and 12.5 generated a $17 and $28 profit respectively and size 13 led to an $80 profit. What can we conclude?
Verdict
If you're a day trader, the only sizes that might be worth targeting are sizes 12.5 and 15 ( they are more scarce) and the limited supply on those will cause the average sale price to be abnormally higher on them. I wouldn't recommend reselling any other sizes as the current margins are either lower than $15 or lead to losses. The shoe is probably currently available via the Nike Employee Store ( where it is being sold up to 50% below the suggested MSRP).
The shoe might be worth investing in for the long term because as early as January of 2023, it was selling for almost $400. So don't be surprised if prices are in the low $400's within a 24 month period.
Be sure to also check out our evaluation of the Jordan 14 low Silver
Official Images Of The Jordan 5 UNC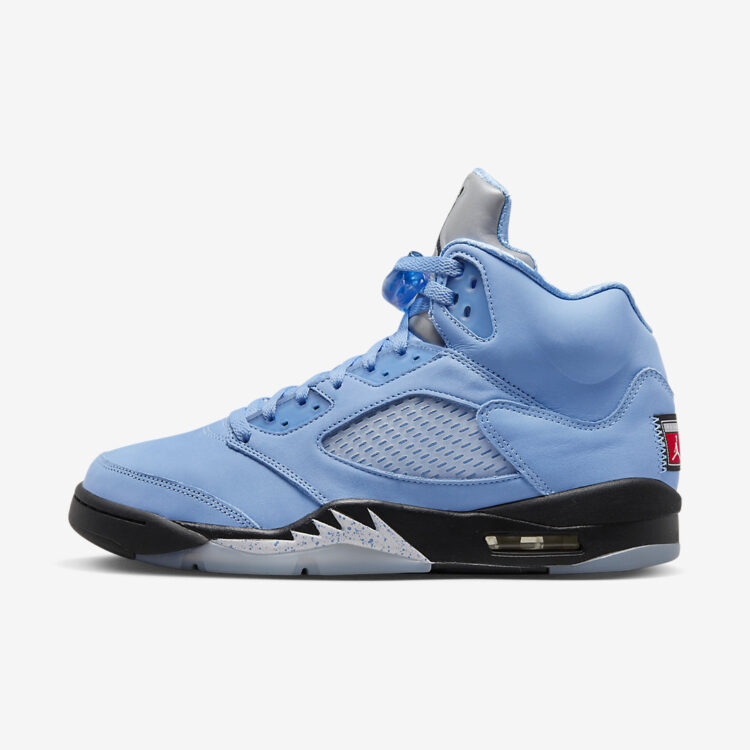 images via Nicekicks 
Latest posts by tayib salami
(see all)