Nike's Air More Uptempo sneakers were first released in 1996, during the NBA's "Air Jordan" era. The massive, chunky shoes were designed by legendary Nike designer Wilson Smith , and they quickly became popular among NBA players and fans alike. In the years since, the  Uptempo has been re-released several times, in a variety of colorways. The latest iteration of the shoe is the Nike Air More Uptempo 96 Volt, which features a perforated leather upper and a Volt-colored rubber sole. Nike has been criticized in the past for releasing too many retro sneakers, but there's no denying that the Air More Uptempo is an iconic shoe with a long history. Thanks to its strong association with the '90s NBA, the Uptempo will likely continue to be popular among sneakerheads for years to come.
If you plan on picking up a pair, refer to the details below
Where To Buy The  Air More Uptempo 96 Volt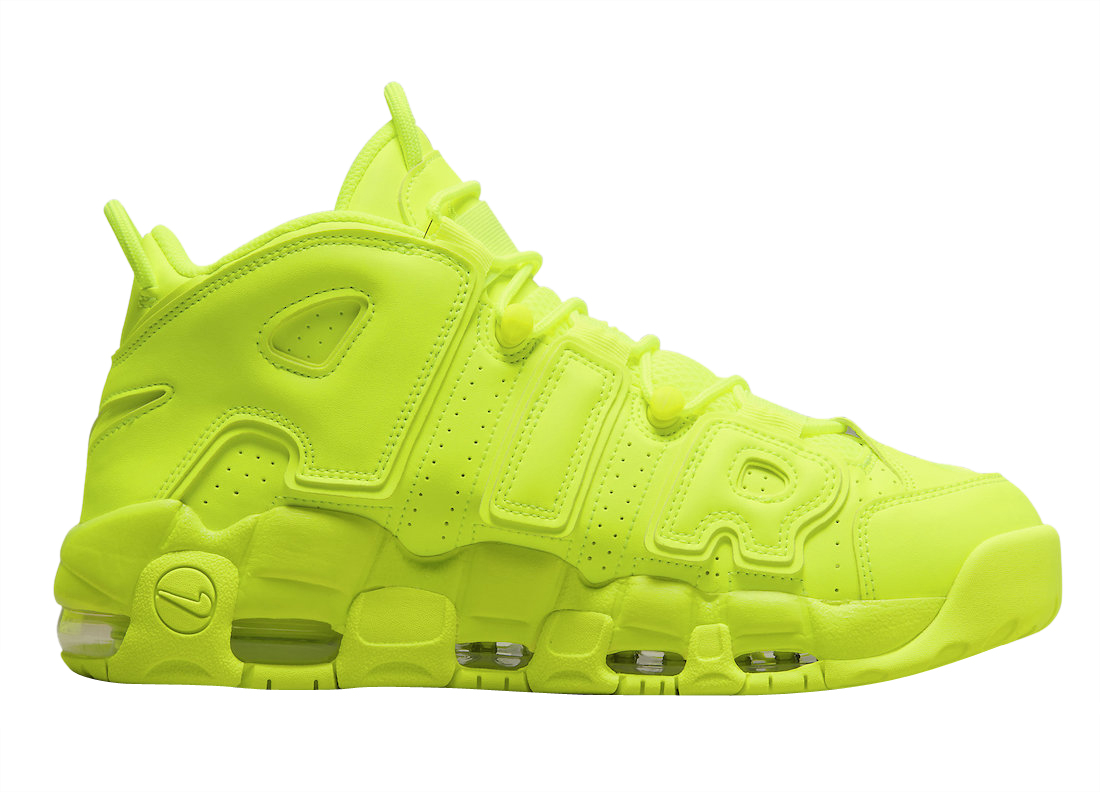 Price:$160
Release Date: 2022-07-28
Style Code:DX1790-700
Color: Volt / Volt / Black
Retailer(s)
Buy it now on eBay, CLICK HERE
OR via StockX, CLICK HERE
Air More Uptempo 96 Volt: Standard Performance Review
Benefits ( Pros)
The  Uptempo is one of the most popular basketball shoes on the market for a reason. It's made with durable materials that can withstand the rigors of the court, and its appealing style is sure to turn heads. The supportive ankle section provides stability and comfort, while the upper doesn't crease easily. The shoe is also available in several different colorways, so you can find the perfect look to match your team's uniform. And when it comes to upkeep, the shoe is easy to clean and maintain. Best of all, it provides a reliable on-court grip that will help you perform your best
Disadvantages ( Cons)
The Uptempo may be one of Nike's most popular sneakers, but it's not without its flaws. For one, the shoe is a bit on the heavy side, which can make playing basketball in them a bit of a workout. Additionally, it requires a bit of a break-in period before it's truly comfortable – you may want to invest in a pair of thinner socks for the first few wears. Finally, the shoe's design probably isn't best suited for playing the guard position.
Materials
Most Uptempo shoes are built with durabuck, a synthetic leather material that is quite durable. The shoe also features a bit of mesh on the tongue and its extension, and a layer of foam on its lining, as well to cushion your ankle. Durabuck is a popular choice for uptempo shoes because it is both strong and flexible, able to withstand the rigors of daily wear while still providing comfort and support. The mesh and foam help to add breathability and protection, respectively, making them essential components of the shoe.
Lockdown
One of the reasons for its popularity is the fact that the Air More Uptempo offers great lockdown and ankle support. The shoe's lacing system provides a secure fit, while the padded collar offers support and stability around the ankle.
Traction
The shoe was designed for one thing: delivering incredible traction on the court. The multiplicity of grooves and threads on the sole of the shoe means that you'll be able to make quick cuts and changes of direction without slipping. Scottie Pippen, one of Nike's biggest endorsers, was known for his slashing style of play, and the Air More Uptempo was designed with that in mind. So if you're looking for a shoe that can help you get an edge on your opponents, the Uptempo is definitely worth checking out.
Sizing
Buyers can safely go for their usual sizes when they order the Uptempos ( they fit true to size). Moreover, there are positive comments that are directed at how comfortable these classic Nike basketball shoes feel. Some wearers have also noted that the Air More Uptempo provides good ankle support. It has a padded collar that doesn't rub against the Achilles tendon too much, and this minimizes the chances of getting blisters during games.
Overall, the Nike Air More Uptempo 96 Volt shoe is a great choice for anyone looking for a comfortable, functional shoe. The air cushioning makes it extremely comfortable to wear, and the Volt color is unique and eye-catching.
Here are more images of the shoes courtesy of Sneakerbardetroit
Air more Uptempo 96 volt: Resale Value
The chart above gives us a breakdown of the earnings/losses per size sold. As you can see, 34% of the sales resulted in a loss ( sizes 7,8.5,9, 11.5 and 13). 53% of the sales led to profits under $20 (sizes 7.5,8 9.5-11, 12 and 14). The remaining 13% resulted in a $103 and $47 earnings ( sizes 6.5 and 15). But it is important to mention that for both of those sizes, the sales' data originated from only a single sale ( not very reliable). So what's the verdict?
I wouldn't recommend reselling the shoe at all as prices will probably tank by 1% to 5% when it releases officially. It will certainly sell out, bot buyers should be happy as they won't have to fork out a fortune to acquire a pair, even on third party marketplaces.
Latest posts by tayib salami
(see all)